More big news for Phone Case of the Month! They are now offering cases for the iPhone 6!!! The first shipment should be sent out in early December. How exciting.
Make sure you sign up soon!!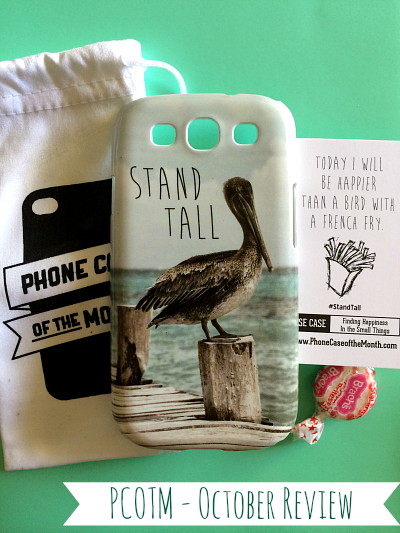 In typical PCOTM fashion, they sent me another case that made me crave summer and warm-ish weather and the Florida Gulf Coast. All of that would definitely make me happier than a bird with a french fry. This case is cute though and can definitely be utilized next summer! Plus the little pelican is so cute and encouraging.
So anyway, back to PCOTM. Less than 200 of each design are printed and sent out to subscribers, which means your case is RARE. You will not see these cases anywhere else! Along with your case, you'll receive a description of the design, some stickers, pins, or candy, and a cute storage pouch. PCOTM manufactures for the iPhone 4, 4s, 5, 5s, 5c, 6 and soon to be 6 plus! They also provide cases for the Samsung Galaxy S3, S4, and S5!
If you'd like to try the subscription service, use my
referral link
for 50% off your first order! Your first case will cost only $5. Plus once you make an account, you will be able to share your own referral link with others! If you have $5 to spare, I promise you, this is worth trying out. I've been subscribed for over 6 months!
Be sure to follow PCOTM's social media accounts!
Facebook
-
Twitter
-
Instagram