My first product review should be written about the very best subscription service I have encountered... and that is, undoubtedly,
Phone Case of the Month
.
I joined the monthly phone case provider in February, and three cases later, I have yet to be disappointed. If you are like me and you want a variety of looks for your phone (or you keep dropping and cracking your cases) this is the perfect solution. Each month, PCOTM sends a limited edition case available only to subscribers. I believe only 200 cases of each design are printed, so it's unlikely you'll see these anywhere else.
Along with the case, a typical package includes a PCOTM baggie, the story behind the design, and a random assortment of goodies (stickers, temporary tattoos, candy, etc.) It currently costs $10 a month and manufactures for the iPhone 4, 4s, 5, 5s, 5c, and Samsung Galaxy S3 and S4.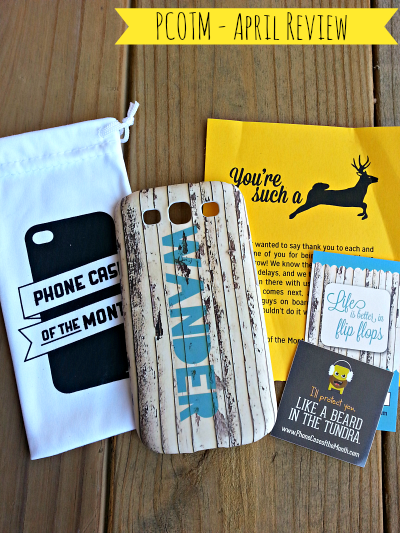 This month I received "Beach Wandering," which is appropriate since I recently had a beach weekend with Chris and am longing for warmer weather. This case will be great for the summer and plenty of vacations! You know, now that I think about it, this case is a little
too
perfect. In fact.. each case I've received has been right on target for my preference.
February's design was graphically perfect - I loved it. March's had a giant peacock feather on it, which if you know me, I love them as well. And now this month focuses on vacations. Hmm. I think PCTOM's team might be stalking their customers to get some inspiration, but that's okay. (Psst - Just an FYI if you guys are reading this, I also like anchors, chevron, and gold.)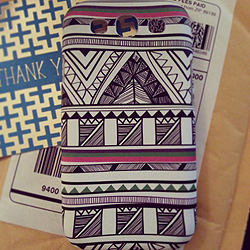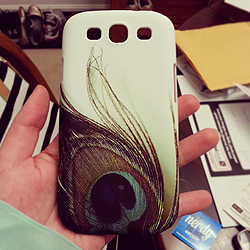 February and March cases
What might be even better than the deliveries themselves is the PCOTM staff. The social media team is constantly interacting with fans of the product through Instagram and Twitter, and the customer service responses are on point. When I received my first package in February, the case had a loose fit on my phone. It wasn't sturdy, kept slipping over the volume button, and was a minor inconvenience. I reached out to the team, unsure if it was a defect or a common problem with the cases they provide. They immediately took action and I had a new case in the next 2 days. They truly want to make sure their customers have the best subscription experience possible.
If you're interested in trying Phone Case of the Month, use my
referral link
and your first month will cost only $5! The discount will be added at the end of your purchase. It's definitely worth checking out if you are looking for fun, creative cases for your phone. I couldn't be happier with the products!