Hello, everyone! It's time for my Phone Case of the Month review for June! But first, some exciting news.
I am teaming up with the lovely PCOTM staff and we are working on a project for the next couple months! There are two ultimate goals: 1, bring more attention to the subscription package itself, and 2, offer more opportunities for bloggers and youtubers who want to publicize the PCOTM product.
I'm pretty excited, so stay tuned for updates and get ready to hear me tell everyone to sign up! Just kidding. Kind of.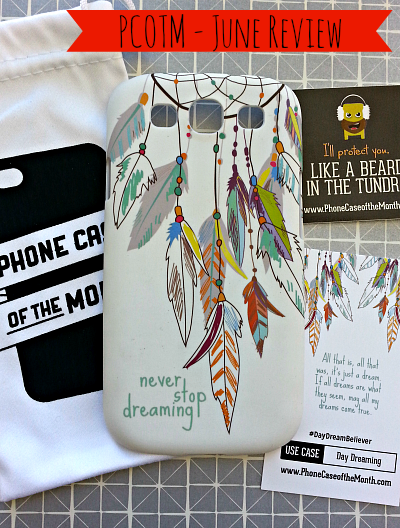 For those of you unfamiliar with the product,
PCOTM
is a $10 monthly phone case subscription. These cases are only available to subscribers, plus, a limited number of each design is printed. You won't find these phone cases anywhere else!
This month I received the "Day Dreaming" case, or #DayDreamBeliever. Every time I think of the name, I start humming
The Monkees
. And then I remember Davy Jones was on that episode of The Brady Bunch.
Anyways. Included with your phone case will be a variety of items, including a PCOTM baggie, the story behind the design, and a random assortment of goodies (stickers, temporary tattoos, candy, etc). PCOTM currently costs $10 a month and manufactures for the iPhone 4, 4s, 5, 5s, 5c, and Samsung Galaxy S3 and S4.
If you'd like to try out Phone Case of the Month, use my
referral link
to get your first month for only $5! Sign up and the discount will be applied at the end of your purchase. I guarantee you won't order just one month's worth! Give it a try and see what new designs you will find. :)
Oh, and be sure to follow PCOTM online!
Facebook
-
Twitter
-
Instagram