My July Phone Case of the Month is here and I think my boyfriend likes it even more than I do. Isn't that enough to make you want to
sign up
?
A short recap for those of you unfamiliar with this subscription service:
Phone Case of the Month
is a $10 package that sends you a limited edition phone case. Less than 200 of each design is printed, meaning you won't see these cases anywhere else! Unless you run into another PCOTM subscriber who mysteriously has the same case as you. But really, those odds are like 1 in 1,000,000. Different cases are sent to different subscribers!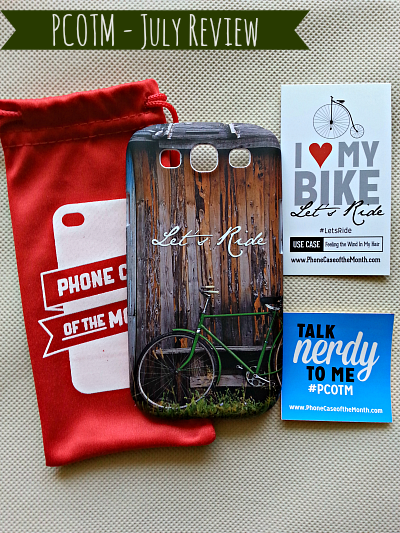 This month I received "Feeling the Wind in my Hair," or as the youngsters would describe it, #LetsRide. Chris
convinced
me to buy a bicycle over a year ago, so you can imagine his surprise when he saw this month's package! He got a great laugh out of it. You can also imagine my uncoordinated self's disdain as I unwrapped the case. Okay, I'm kidding... kind of. The case is cute and I'll use it when I'm dragged out on the bike path. :)
Each case comes with a story behind the artist and design, some stickers, pins, or candy, and a cute pouch for storage. PCOTM currently manufactures for the iPhone 4, 4s, 5, 5s, 5c, and Samsung Galaxy S3 and S4.
If you'd like to try the subscription service, use my
referral link
for 50% off your first order! Only $5 for a cute, sturdy phone accessory! I think you'll be happy with the product. They really have a huge variety of case designs and it's always fun to see what you will receive!
And by the way, if you ever see me riding a bike, stay out of my way. I ride towards everyone and everything in sight. :)
Go follow PCOTM online!
Facebook
-
Twitter
-
Instagram