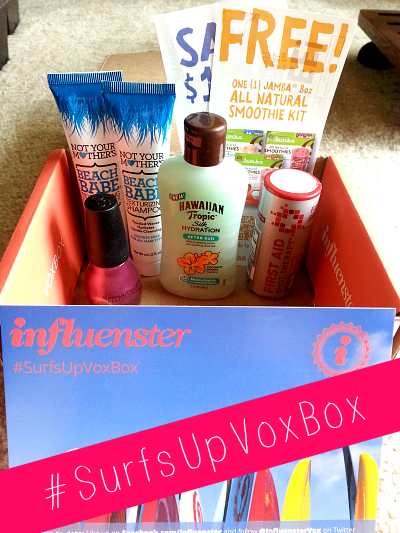 I have jumped on the freebie train! I became hooked on
Influenster
as soon as I found the website - and it didn't hurt that I was chosen for my first Vox Box two weeks later. I was lucky enough to receive the Surfs Up Vox Box and here's what was included:
-Not Your Mother's Beach Babe shampoo and conditioner:
I haven't used this yet since I plan on taking it to the beach, but I'm excited to try it! Anything that can handle my crazy beach hair is an A+ in my book. Plus both the shampoo and conditioner smell good.
-Sinful Colors nail polish:
I'm not a huge fan of the color I received (Sage Rose) but I do like the nail polish overall. I painted one thick layer and the coverage is pretty good. You might want to paint two layers if you have a lighter color polish. You can find Sinful Colors at Walgreens!
-Hawaiian Tropic Silk Hydration lotion:
Again, another product that I'm taking to the beach with me, and another product that smells great! This was shipped separately from the box because of high demand and I'm glad it didn't get lost in the mail.. I've read great things!
-First Aid Shot Therapy:
I'm a little particular with the kinds of medicines I take, so I probably won't be trying this one. I'm going to keep this around in case a guest ever needs quick pain relief. I've read some good reviews about FAST so I'm sure it works well.
-Jamba Juice smoothie coupons:
One free smoothie kit coupon and a $1 off coupon were included. These are sold at a variety of locations but I'm planning on visiting Safeway today to pick up my free kit! It looks delicious.
Thanks for choosing me for this campaign, Influenster! If you would like to join the site I have plenty of invites to send out. Leave a comment with your email and I'll send you one!
All products were provided for free by Influenster for product testing and review purposes.