It's time to see what package I received for August! But first, some
BIG NEWS
about Phone Case of the Month. Starting today, after many many requests, the company is offering cases for the
Samsung Galaxy S5!
Sign up now through my referral link and your first order will be $5!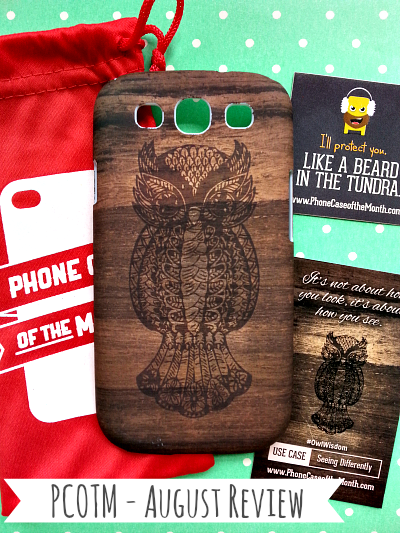 "It's not about how you look, it's about how you see" is the slogan for this month's "Seeing Differently" case. As usual, this case fits in pretty well with everything I like. I have an owl on my desk at work, an owl on the shelf in the living room, and three recently-purchased gold owls on the bathroom wall. The last card Chris gave me had a gold owl on it. Oh, and I have two owl necklaces. Err... yeah... I guess I have a little obsession..
Anyway. Different subscribers receive different cases - multiple designs are sent throughout the month! Each case comes with a description of the design, some stickers, pins, or candy, and a cute pouch for storage. PCOTM currently manufactures for the iPhone 4, 4s, 5, 5s, 5c, and the Samsung Galaxy S3, S4, and
newly added S5
!
If you'd like to try the subscription service, use my
referral link
for 50% off your first order! Your first case will cost only $5. Plus once you make an account, you will be able to share your own referral link with others!
Be sure to follow PCOTM's social media accounts!
Facebook
-
Twitter
-
Instagram