In a last attempt to save the warm weather from ending, Phone Case of the Month has sent me a cheery, summertime-appropriate phone case for the month of September. Sigh. At least they tried. No one else can save the impending doom of winter weather!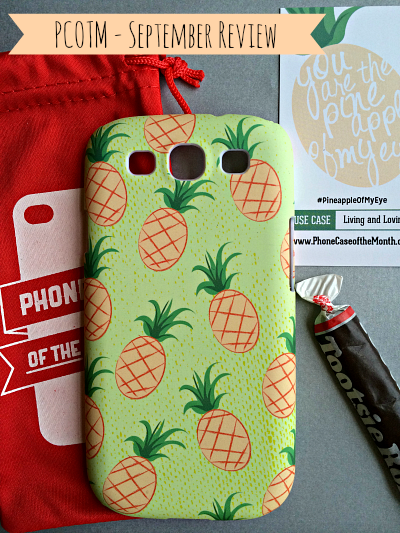 You are the #PineappleOfMyEye, PCOTM! This case is adorable and has gotten lots of compliments. Who wouldn't love something covered in a cute pineapple pattern? Exactly.
For those of you who don't know,
PCOTM
is a $10 monthly phone case subscription. These cases are only available to subscribers, plus, only 200 cases of each design are printed. You won't find these accessories anywhere else!
Included in your package is a variety of items, including a PCOTM baggie, the story behind the design, and a random assortment of goodies (stickers, temporary tattoos, candy, etc). PCOTM manufactures for the
iPhone 4, 4s, 5, 5s, 5c
, and
Samsung Galaxy S3, S4, and (NEW!) S5
!
If you'd like to try out this subscription (which you totally should) use my
referral link
and get your first case for only $5! Plus once you sign up, you can share your own personal link and get discounts on future cases! It's a great deal offered by a great company, so get to ordering!
Have you ordered from Phone Case of the Month before? Which case did you receive and how did you like it? I'd love to hear your thoughts!
Oh, and be sure to follow PCOTM's online for all the latest updates!
Facebook
-
Twitter
-
Instagram